Welcome to Turner Wording & Fund
Turner Wording & Fund commenced trading in 1998. We operate as an association of five experienced consultants.

We offer an individual and dedicated service designed to lead an improved and sustainable fundraising and marketing strategy rather than long term dependence on external assistance.

All our consultants' work is strictly governed by the professional and ethical codes of practice set out by the Institute of Fundraising.

We provide services in: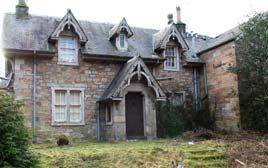 Riverside Cottage
– photo by Julia Turner.
Riverside Cottage lies in the grounds of Newbattle Abbey College.
We are working with the College to raise the funds required fully restore this architecturally significant Grade B listed building in order to provide a residence for a Writer in Refuge as part of the Edinburgh – UNESCO City of Literature - City of Refuge Project.
The project will restore the original external and internal appearance of the David Bryce-designed estate lodge through careful conservation and repair of the fabric using traditional materials and techniques.
The project will involve and benefit the communities of Midlothian, Edinburgh & the Lothians, the Borders and beyond.
If you would like to support this project or learn more about it
contact us
or email:
annsouthwood@newbattleabbeycollege.ac.uk
Fundraising.
You may have a great project idea, but lack the funds to put it into operation or you may already be running a project, need finance but don't have the staff capacity to absorb additional fundraising activity.

Click here to find out how the range of fundraising services we provide could help you to get started or develop an existing project.

Each prospective client contacting us will be entitled to an exploratory consultation covering any aspect of our services completely free of charge.
Communication.
Effective fundraising or campaigning needs effective communication with funders or target audiences.

Click here to learn how we can help you to plan and deliver a comprehensive communication strategy.

Training.
Most clients we work with don't want to have to rely on long-term external consultancy and some may not have the budget to buy in hands-on consultancy expertise.

In either case we can teach you the arts and techniques of fundraising and communication to enable your staff to more effectively fundraise or communicate.

We offer a full range of training modules to allow you choose the package which best suits your needs and budget.

We also offer modules covering the areas of Staff Development and Managing Well.

Click here for more information.
Working together, we'll share your commitment and help you achieve your goals.